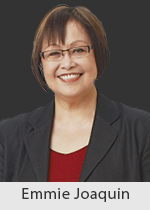 Emmie started her career in the financial services industry in 2006 as an advisor in a top Canadian financial services company. She also served two consecutive terms on the Life Insurance Council of the Insurance Council of Manitoba (ICM) between 2008 and 2014.

As a very active member of the multicultural community in Winnipeg, Emmie's knowledge and understanding of the immigrant experience allows her to focus on helping families and businesses define their financial goals. Emmie speaks English and Filipino (Tagalog).

Born, raised and educated in the Philippines, Emmie earned her Bachelor of Arts degree in Broadcast Communication from the University of the Philippines ((U.P. Diliman). She was the Public Relations Manager of the multinational advertising agency, McCann Erickson ((Philippines) until she immigrated to Canada in 1988.

In Winnipeg, Emmie produced and initiated the various Filipino programs on CKJS Radio. After almost 15 years in radio broadcasting, Emmie left CKJS Radio to serve as Special Assistant for Communications for then-Federal Minister of Western Economic Diversification, Dr. Rey Pagtakhan.

Emmie has received both the Queen Elizabeth II Golden Jubilee Medal in 2002 and the Queen Elizabeth II Diamond Jubilee Medal in 2012 for media and community service. She was also a nominee for the YM-YWCA Women of Distinction Award in 2004.

She is now a co-owner and president of The Pilipino Express Inc. and Editor-in-Chief of the widely circulated Pilipino Express News Magazine.